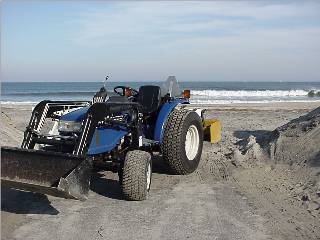 REGULAR SCHEDULED LAWN CARE
LAWN MOWING IN GENERAL
TRACTOR WORK
BUSH HOGGING
FILL WORK, (SAND OR GRAVEL)
FENCE REPAIRS
DECKING REPAIRED
FAST QUAILITY WORK
PAINTING
LANDSCAPING
LAWN SPRINKLER SYSTEMS REPAIRED
FIX THAT BROKEN LATCH ON THE POOL GATE!!!
(WE DON'T FISH AND WE DON'T SURF,..SO WE WILL PROBABLY GET THE JOB DONE ON TIME!)
SEE "LANDSCAPING" FOR SAMPLE PHOTO'S OF JUST SOME OF OUR LANDSCAPE IDEAS.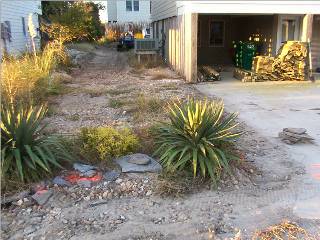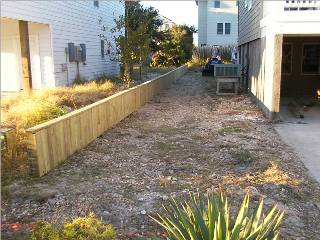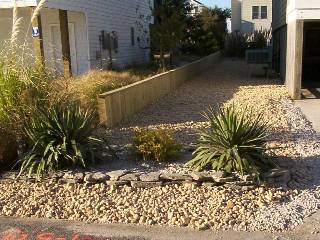 IN THE THREE PHOTOS ABOVE, WE TOOK AN OVER GROWN AREA (1ST PHOTO), CLEARED IT OUT AND ADDED A TWO FOOT FENCE (2ND PHOTO), THEN ADDED THE VARIOUS SIZE ROCKS AND POSITIONED THEM AS BORDERS FOR THE PLANTS TO TURN THIS INTO AN ATRACTIVE AREA,(3RD PHOTO), INSTEAD OF THE ORIGINAL OVERGROWN AREA..YOUR GUEST SEE THAT YOU TAKE CARE OF THE OUTSIDE OF YOUR COTTAGE, THEY WILL THINK YOU TAKE CARE OF THE INSIDE AS WELL...
IT MAY SEEM LIKE WE COVER A LOT OF THINGS, AND YES WE DO! BUT KEEP IN MIND A LOT OF THE WORK IS SEASONAL....MOW LAWNS IN THE GROWING MONTHS, DO THE REPAIRS, ROCK BEDS,NEW FENCE WORK, DECKS ETC. IN THE OFF MONTHS...IT WORKS OUT PRETTY WELL...GO TO LANDSCAPE SAMPLES FOR PHOTOS OF SOME OF OUR WORK....THANKS FOR LOOKING..
landscaping